Learn More About the New Tundra From Crown Toyota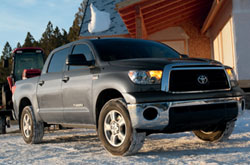 Seeking out information on your next vehicle purchase is important. That's why we take the time to create reviews on the Toyota Toyota Tundra. We are a top-rated Toyota dealership in Decatur, and it's our job to equip you with Toyota reviews created by some of the most striking automotive writers in the industry. Once you begin to read, you'll find that this article is bundled with important features and information. Crown Toyota is always available 7 days a week to answer questions you have. Do not hesitate to call us to speak with our Tundra specialists.
Toyota Tundra Comparisons & Quick Specs
Compare the 2013 Toyota Tundra to vehicles like the 2013 Ford F 150, Dodge Ram, GMC Sierra and the Chevrolet Silverado, and you'll find that the Tundra wins over the competition in many areas. Check out our Quick List below to find out why!
2013 Toyota Tundra MPG: 16 city / 20 highway
2013 Toyota Tundra 0-60 MPH in 6.4 seconds
2013 Toyota Tundra MSRP: $25,355
2013 Toyota Tundra Body Style(s): Truck
2013 Toyota Tundra Colors: Spruce Mica, Radiant Red, Silver Sky, etc...
2013 Toyota Tundra Cargo Space: pickup cubic feet
2013 Toyota Tundra Seats: 6 passengers
Features & Trims Available to Decatur Toyota Tundra Shoppers
Engine Specs: See What's Under the 2013 Tundra's Hood
Safety Features & Toyota Warranty Facts for Owners
Maintaining Your Investment - We're Here to Help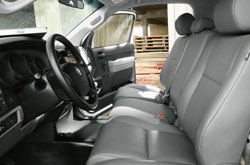 Get bona fide factory parts and amazing workmanship from Toyota technicians at a shop that's just a brisk commute from your apartment or house. At our Toyota auto repair center in Decatur, we offer this and a generous warranty on all jobs! Crown Toyota's manufacturer-trained mechanics will keep your Tundra in athletic form. We can manage a chore as simple as an oil change, or handle more complicated car service and repairs like Toyota timing belt replacements, transmission rebuilds, and strut and shock repairs. For both more complicated and straightforward services, our Decatur car repair center does everything; moreover Crown Toyota offers budget-friendly maintenance pricing. Get specials for service. You can scope out discounts by clicking the ensuing line of text.